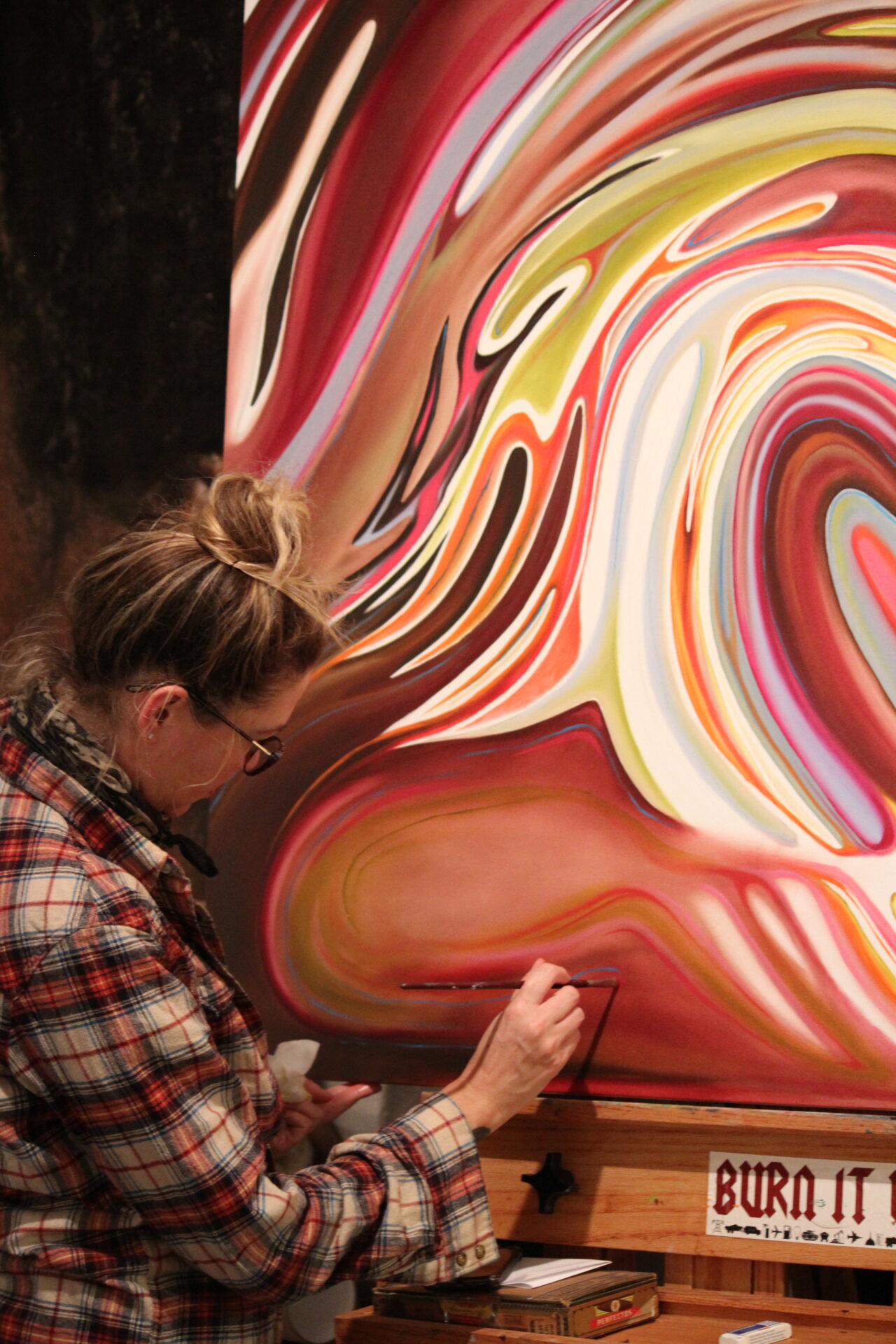 Some time ago, during a very difficult time in my life, I was overwhelmed by an outpouring of kindness, love, and support. The Fingerprint series is my homage to humanity, giving credence to those dear individuals, as well as to the new relationships that I develop. In very basic terms, I fingerprint those that are close to me; I scan the print, enlarge it in order to work from it, then turn the structure of the print itself into an abstracted, psychological, emotional portrait. I focus painstaking, obsessive attention into constructing a non-representational image that is based on the fingerprint. Repetitive, overlapping, and concentric lines that are carried out with methodical precision and micro-decision making is my means of attempting to explain a life story; the DNA of my work.
Each painting is its own separate entity, exposing someone's personality. The fingerprint in and of itself, so beautifully conveys the concept of each individual's unique experience and life story. I have found so much information within the whorls and lines belonging to each person that correlates sometimes directly to their quality of life and the specific circumstances they have been exposed to. Fingerprints are formed in the womb, and unlike other visible human characteristics which are subject to change, fingerprints are one of the only constant units throughout a person's life. Only through scarring or rare instances of damage or lack of use, will the print show a change.
The fingerprint, with all its lines and swirls enables me to include massive quantities of information regarding each persons life and character and my relationship to them. A quote from DeKooning that I connect with is that, "I paint this way because I can keep putting more and more things in it-drama, anger, pain, love, a horse, my ideas about space." The use of chaos as a scientific determining factor, to give some structure to an otherwise emotional work, helps me to engineer pictures to where they are neither one thing nor another.
Creating something abstract, but that looks like something you should know in reality, the best of two worlds, is the attenuated quality that I strive towards. I feel that the closer the work comes to non-existence, the more exquisite and evocative it becomes. From the first finger prints discovered in prehistoric Nova Scotia, to clay seals found in Babylon and ancient China, fingerprints have always held a social significance. These paintings attempt to utilize a universally human attribute in order to translate complex emotional, ethereal ideologies. My goal is to create a timeless yet unconventional portrait; utilizing the fingerprint as portrait, is a modern approach to an age old genre of painting.
I have been drawing and painting since I was a little girl; art chooses you, I don't feel like you have a say in it. I started very young by copying master paintings out of a book from the National Gallery of Art that my Mother had. After I won my first international art contest at 8 years old, I was officially hooked and knew I'd pursue art the rest of my life. I attended Governor's School for the Arts during my high school years and some years later, went on to study human anatomy at the Art Student's League on 57th street. From there I began working as a medical illustrator and continued painting. This background enabled me to develop the skills necessary to go back and forth between realism and non-representational work.
The abstract expressionists and minimalist artists of the 50's and 60's are where I draw my inspiration from; Kline, Motherwell, Reinhardt, etc. Interestingly, my work is visually almost the complete opposite of these styles. By packing as much detail and information into each work is a way for me to empty my head, a sort of therapy, and a way to tell that story. I adore traveling and have spent a significant amount of time motorcycling across America. These were some of my favorite years and they definitely impacted my visual vocabulary. For nearly 20 years, I have been fortunate enough to have Chuck Close mentor me. This is where I really learned color theory, process, and a strong work ethic; his guidance has been invaluable.